Grandstand
Grandstand is a space where a diverse community of students come together to share, enjoy and communicate with each other in a social way. They are active participants in hands-on, meaningful & relevant learning experiences and get a chance to express their voice and choice. They get opportunities to take initiative and make decisions, which leads to a greater investment in motivation, interest and accountability. It's a medium through which they engage in groups cohesively within the Gateway community, which helps them build unity and confidence. In Grandstand they get opportunities to apply their knowledge, skills and attitudes to find solutions to challenges and situations that they encounter while working with each other and the community at large.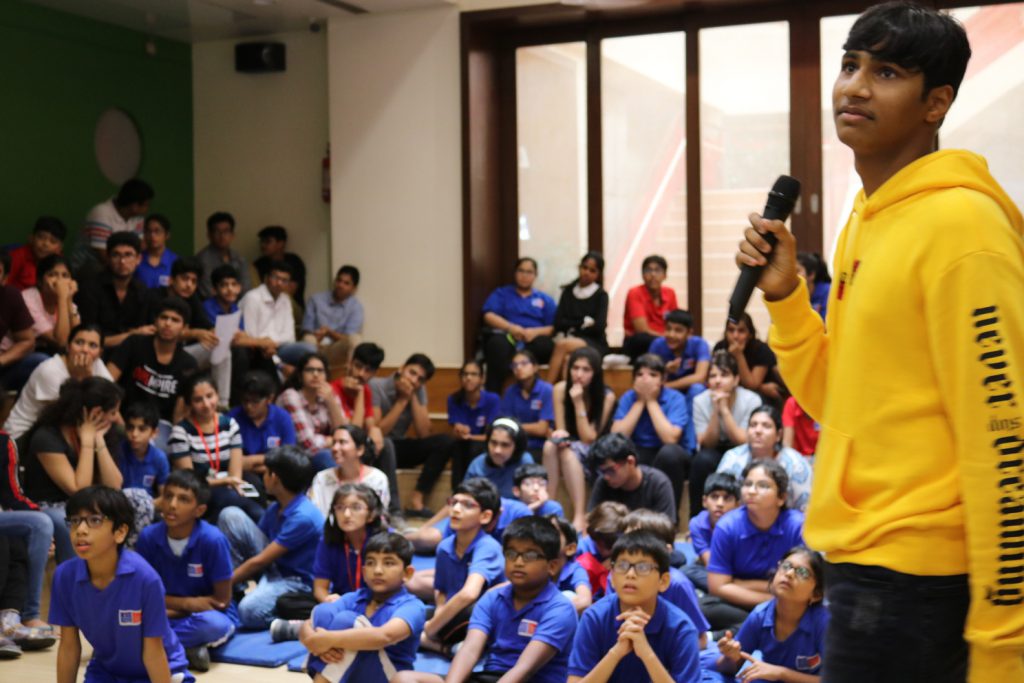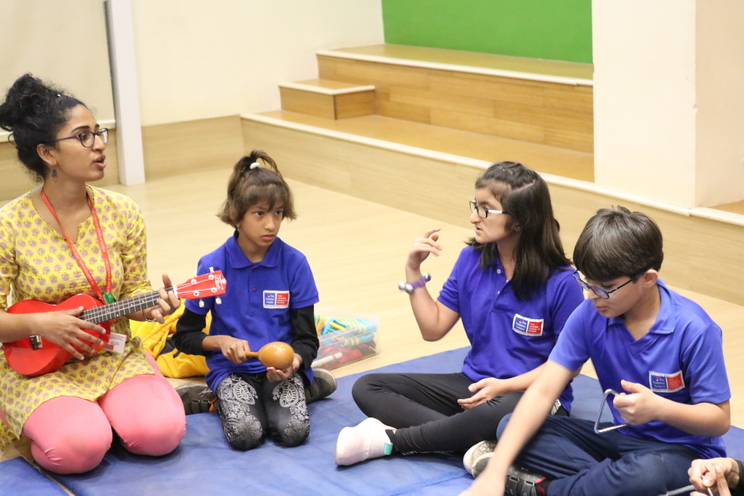 The arts inform our lives with meaning every time we experience the joy of a well-remembered song, experience the flash of inspiration that comes with immersing ourselves in an artist's sculpture, enjoy a sublime dance, learn from an exciting animation, or be moved by a captivating play. At The Gateway School of Mumbai, the arts are thus considered important in the holistic development of each child. The program consists of visual arts, drama, and music, taught across all the sections. Students engage in all three disciplines every week. The program aims to develop artistically literate individuals who use the arts for communication, creative personal realization, learning about culture and history, emotional well-being, and community engagement.  The program draws from evidence-based, National Common Core Arts Standards, and the NIOS and Cambridge International curriculum. The arts are integrated with the core disciplines of Language, Humanities, Sciences, and Maths through the Multi-Disciplinary Learning Units (MLUs). We believe in making the student's learning visible. Each unit of inquiry is assessed and students are given opportunities to present their creative work in formal and informal settings throughout the year.
The visual arts program is taught across all the sections and it focuses on developing and nurturing students to communicate uniquely and generate experiences, and facilitate ideas, feelings, and imaginings into visible and tangible outcomes. Through drawing, painting, and inventing, the students are enabled to comprehend, respond to, and make sense of, their experience of the world.
The curriculum focuses on improving fine motor skills and engaging in the individuality and creativity of each student's work, the visual arts curriculum serves to enhance self-confidence and self-esteem in the student. It encourages risk-taking and spontaneity and so celebrates uniqueness.
The program also allows students to explore vast possibilities in the field of visual arts through exposure to the work of global contemporary artists.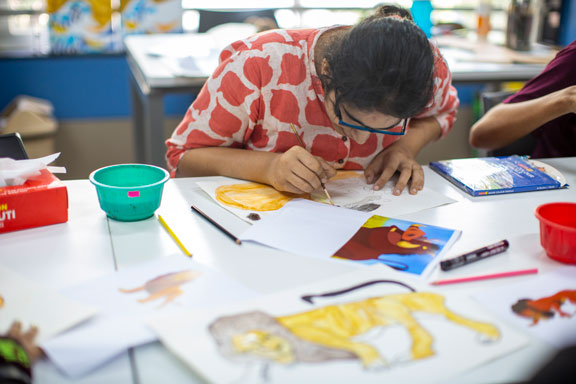 Drama: An emphasis is given to developing body awareness and motor skills, and facilitating multi-sensorial experiences for students. Critical thinking and problem-solving skills are prioritized over a breadth of performance skills taught through improvisation, puppetry, pantomime, role-play, sensory theatre, reader's theatre, and street play performances. While the program emphasizes teaching performance and storytelling, it offers students a safe space to explore, discuss, and express their emotions.
Music: The curriculum emphasizes expanding the knowledge of world music through vocal games, percussion instruments, and music appreciation. An emphasis is given to developing sensory-motor skills and encouraging social-emotional skills. Students are given first-hand experience of becoming a performer while encouraging artistic expression.