I am a Covid Survivor Too…
I am Saisha, a fifteen year old girl studying in grade 10 at The Gateways School of Mumbai. I love the support that I receive from my teachers and friends. They have taught me to believe in myself. I enjoy listening to music and I love fashion design and drawing. I am a big Bollywood fan and Gateway has helped me connect with some of my favorite celebrities.
Have you ever been in isolation in your own home? My parents were diagnosed with Covid. We could not see one another and were dependent on video calls and we virtually interacted by playing online Ludo King. I missed my parents and was so sad that I could not physically hug and kiss them.
I had to take care of myself and be responsible and was not allowed to touch anything at home. I ate my meals alone and watched Netflix. I had to keep washing my hands and had to wear gloves and a mask if I went out of my room. This was difficult for me but I learned to cope in a set of new circumstances.
My extended family, teachers, and friends were all very supportive and gave me the confidence that this too would pass and I am very grateful for them.
Ten days after my parents were diagnosed with Covid, I developed a fever and my RT PCR came back negative. My parents thought that maybe the cause of the fever was my anxiety from the separation from them. However, the next day I also had a stomach infection. Despite being treated for it, my fever returned every 6 hours. Therefore, I was then tested for dengue, malaria, and jaundice to better diagnose me. I tested negative for all three diseases.
My blood tests revealed that my white blood cell and platelet count was low and I was put on antibiotics to treat dengue. My fever still did not break.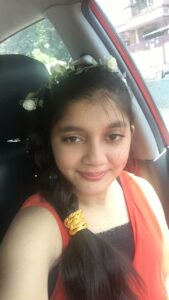 By this time, my mother had tested negative and she slept with me and sensed my discomfort through the night.
The next morning I was taken to the laboratory for an X-ray. I was diagnosed with pneumonia. I was immediately taken for a CT scan.
They had to take me in a wheelchair as my energy levels had drastically dropped. It was my first CT scan and I was scared and nervous. The report showed a Covid score for which I needed to be hospitalized immediately as my oxygen level had dropped as well.
In the hospital, I was terrified and fearful as this was my first time being hospitalized. The treatment started immediately and I was restless and uncomfortable for two nights with the IV in my hand and the oxygen tube in my nose. I had to be brave to go through the blood tests, injections, nebulizer sounds, etc.
But once I got more comfortable, I began to love the hospital staff because they were kind, generous, caring, and efficient.
I enjoyed the different types of food I was being served in the hospital. Especially the sandwiches and healthy food. Their drinks were yummy too!
After 5 days, I was able to walk in the hospital hallway. The doctors were vigilant about checking my oxygen level. I was grateful to have a physiotherapy trainer who taught me lung exercises. He also got me a spirometer. I knew exercise was the key to good health.
The day finally arrived when I was discharged and allowed to go home! My parents gave me a wonderful and warm welcome home. They had decorated my room and they bought a chocolate cake and gifts for me. This has been a very difficult journey but I know it has made me so much stronger. I realized so many things about myself during this ordeal and know despite this having tested my whole family that we faced this adversity together and we are blessed.
I hope our country gets a vaccination for kids soon.
I would like to thank the Gateway family and let them know that they have been my pillar of support and I love them all.
Writer: Saisha Alagh, Student
Editor: Shalini Sawhny – Braxhoofden